The Most Chilled out place on a Monday Morning!
Monday, February 18, 2013
Sitting on the porch of a small yet comfortable cafe, I was sipping deliciously hot black tea on a rainy morning. The cafe was almost empty if not for very few travellers. The waitresses were huddled in one corner talking among themselves. All signs suggested it was a lazy morning. We were travelling in the Himalayas during the most unlikely time, when it pours cats and dogs because of which we were treated to lush greenery, overflowing rivers and streams, misty days, thundering waterfalls and all things beautiful.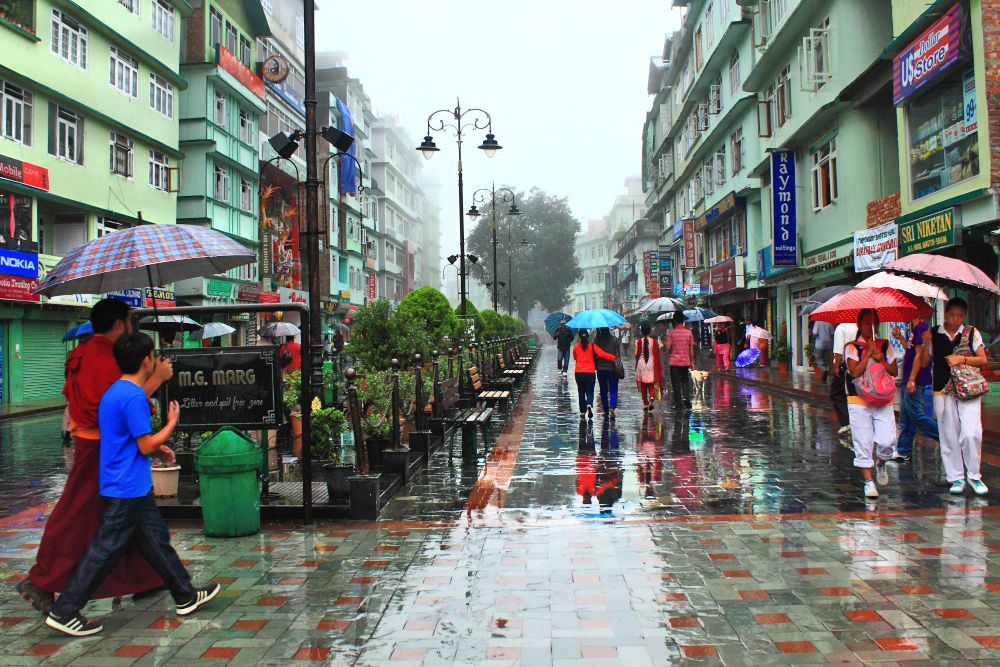 Earlier that day when I woke up in the morning, through the curtains draped on the windows, I could see mountains playing hide and seek with the clouds. Sun was barely shining through the dense cloud cover and there was slight nip in the air. It was drizzling yet it seemed that heavens were ready to open flood gates anytime soon. As it happens to many while traveling, we were also clueless about the time and day of the week. MG Road was clean and sparkling thanks to the cleansing rains. Even as we first arrived in this pretty town few days ago, the first thing that struck me was the all pervading cleanliness. For an Indian town to be this clean, even more so in the rains was nothing short of a miracle. Traffic is not allowed on this stretch of MG Road, also known as MG Marg(Marg translates to road, in Hindi). Pretty benches and lampposts cut the road through the center, posh shops lined either side of the road. The low hanging mist only added charm to this already beautiful setting.
One Friday, I was just noticing how many different groups sat on the benches opposite the cafe while I was there.
Elderly women dressed in traditional attire were walking in groups and greeting each other. Everyone seemed to carry one of those huge umbrellas, they came in all colors. The benches that lined the road were hardly empty. Students, youngsters, old people - someone or the other always took time to sit on these benches, they either sat silently or talked, laughed and left. No one seemed to be in any sort of hurry and everyone seemed to know everyone. Several greetings were exchanged between passers by. Things moved at an almost negligible pace, just like the clouds over the mountains. The clouds keep moving but you wouldn't notice but look after few minutes and you'd know something has changed.

As travellers, it wasn't anything significant to note that we were chilling out. But to see everyone else in the town chilling out was certainly not something I was used to. On Monday mornings like this, when I am struggling to get up in the morning, running after a bus, sitting with strangers yet talking to myself in my head, unbearable advertisements blaring in my ear on the radio, it is on days like today that I am taken back to the Monday mornings spent on the hill station. I long for the music of the mountains, noise of strangers talking to each other, dance of the clouds and wrath of the rain!
Turns out Monday mornings are that awesome in Gangtok, Sikkim. So are Friday evenings and the rest of the week.