Epic Adventures - Frozen Winter in the High Mountains
Tuesday, July 31, 2012
Epic Adventures!
Today I start a new series on my blog, one that I am really excited about. I choose to call them "Epic Adventures", for they are Epic! I have met/heard of many people over the course of the past four years since I started traveling and quite often I was surprised and inspired by what others have been doing. They have been pushing their limits, testing the waters, heading into the unknown, in whatever way possible, big or small. Mountains and adventure is something I can never get enough of and honestly, I feel all of us should know of others' adventures as well. For that is the only way we can know for sure that we are not alone in this madness. Next time you find yourself wondering if you can probably walk across the entire coast in a year, you might find some inspiration here. Just do it I say! :)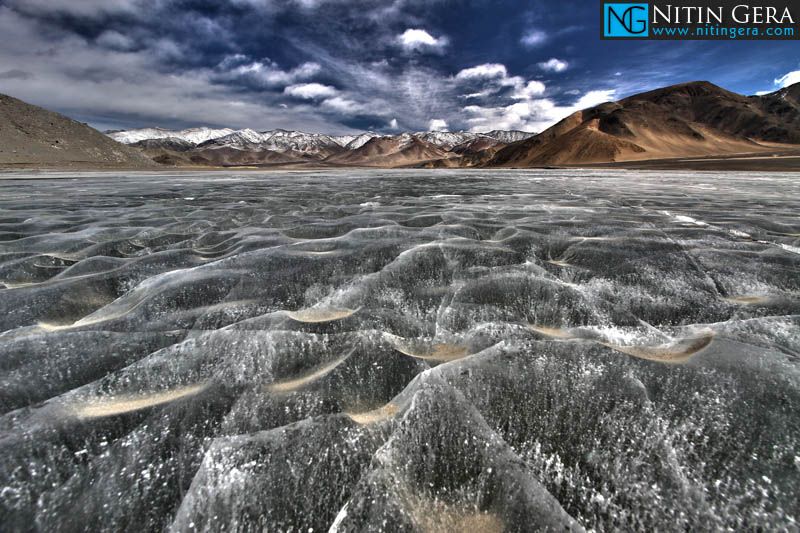 Frozen Winter in the High Mountains
So for the first from the series, I present a winter adventure from my favorite place in the world, my home, Ladakh! Nitin and his friends headed to this enchanting land in frosting winter to have the time of their lives and bring back some stunning images of the frozen wonderland. First I will let you stare at the pictures for as long as you want, then get over it to read further to know more about the literally bone chilling trip.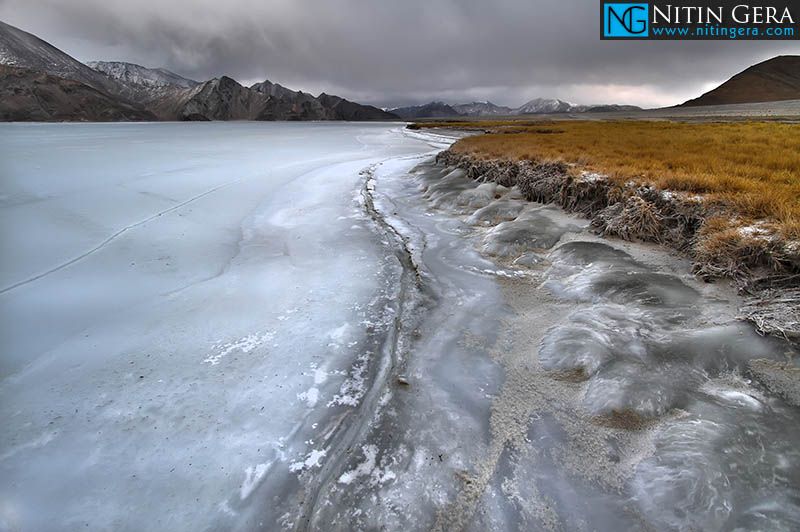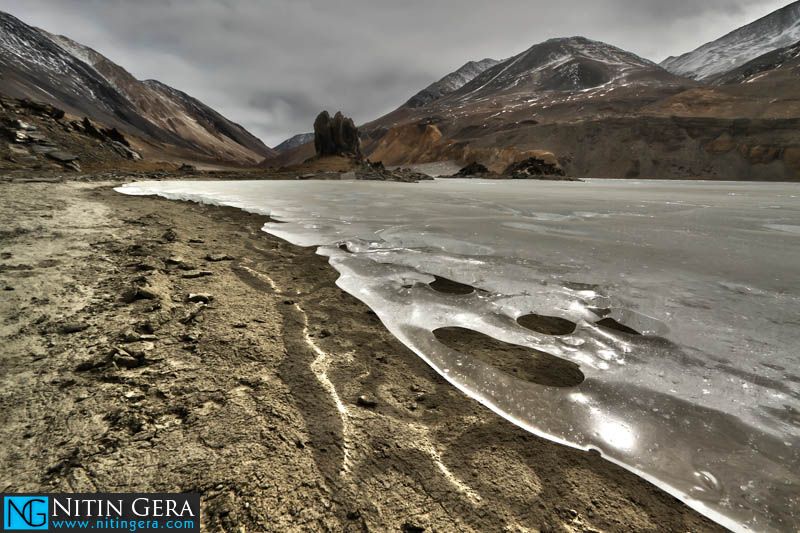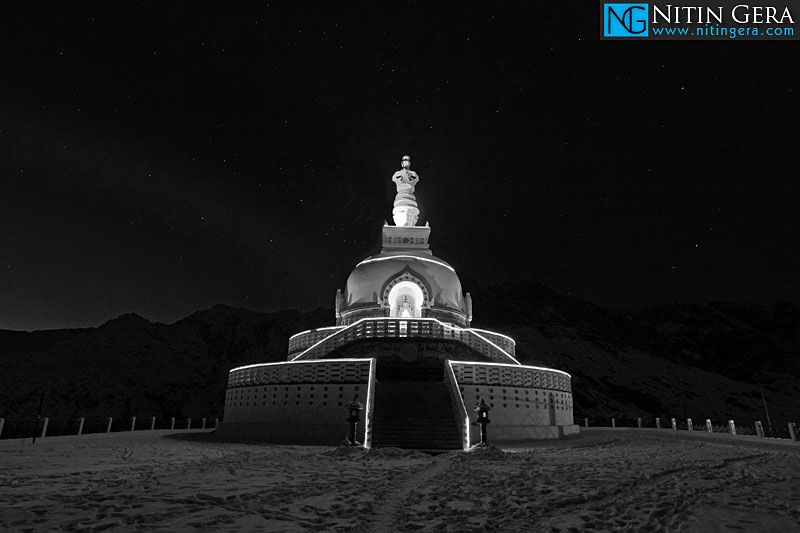 Who was the mastermind behind this plan?
In September 2011, I was at Pangong Tso when the season's first snowfall arrived. The tourist season was almost over. My wife and I had been camping at the lake's shore. It rained and snowed throughout our last night there. We woke up to snowflakes gliding all around. We met a boat-patrol party who shared their winter experiences. I think it was this conversation which rekindled a long standing wish of experiencing Ladakh in winters. Upon returning to Delhi some friends also mentioned the idea, one got his trip booked for December. Me and my friend, Rajiv, who had also done road trips to Ladakh decided to go in January, along with my wife and cousin.
What were your first thoughts when you heard/thought about the winter expedition to Ladakh?
There was a lot of anticipation! Even though I had been all around Ladakh multiple times the winter trip meant a lot of unknowns.
How many times have you been to Ladakh before this and what inspired you to do the winter expedition?
Thrice – twice on motorcycle and once in SUV. Like I said, the idea took shape over multiple trips – it could've been while camping in Changthang, or through a freak snowfall in More Plains, or may be while crossing passes with 10-12 feet high walls of snow on either side.
How long was the trip and can you tell us the places you covered during your visit?
It was a nine day long trp. We went around Leh – to Basgo and Alchi – and did as much of the Changthang loop as was possible, through Mahe, Tso Moriri, Loma, Hanle, Tsaga La, Chushul, then through settlements along Pangong – Man, Merak, Spangmik, to Tangtse and back to Leh via Chang La.
Was it self driven trip? In that case how did you prepare your vehicle and yourself for the drive?
Self-drive is not possible as the passes on the approach to Ladakh are closed. The only option is to reach Ladakh before the winters set in and return in next summers. The vehicles often need snow-chains and the diesel ones need special care to keep the fuel from freezing.
I've seen one image where the ripples of the river were frozen and clearly visible, I am sure that would've been some experience.Can you tell us something about how it felt to see the frozen river and the frozen lake?
Can you freeze time? Or, existence itself? If such a feeling could be experienced and expressed then what I felt must be similar. The mighty Indus frozen as if by some cosmic watcher pressing pause on an inconceivably powerful remote control!
What was the most challenging aspect of the trip?
The ordeal of high altitude sickness raised to the power of a severe cold. The combination is something which we plain dwellers can barely imagine. Unlike elsewhere in the developed world Ladakh doesn't have the amenities to provide comfortable lifestyle even in such severe weather. The real challenge was to build enough mental strength to deal with all this and still relish the indescribable beauty.
What was the most memorable moment of the trip?
It has to be at the frozen Pangong Tso, even though almost all the water bodies had astonishingly frozen, yet the effect that Pangong creates is unmatched. Through all my trips I had been circumambulating this lake to photograph its varied views. Now there it was, like a frozen sea and I had to start all over again. And, all over it I was, quite literally! We went crazy running, skating, even driving on the lake!
Were there any scary moments on the trip where things got out of control?
On day one of the trip my friend got hit severely by AMS so badly that he wanted to return by the next flight possible. Thankfully his health got better after medical treatment and he decided to continue the journey.

Photographing the winters, how did that feel? Any particular difficulties you faced photographically speaking?
It was a task handling the camera with gloves. The toughest was when I was out in the night at Hanle capturing the starry sky. At -17 degrees C my intervalometer froze!
The timing of your trip seemed perfect, when the river and lake was frozen. Did you plan it that way or was it a sweet coincidence? If it was planned, how did you make sure to find the right time?
It was planned based on the inputs from the locals. I had booked leaves from my office several months in advance.
What were the temperatures you had to deal with during the trip?
Day temperature used to be between -7 to -10. Once Sun goes out there used to be a sharp dip and it was almost impossible to go out with the mercury going below 20. Our coldest stay was in Tangtse at -25degrees C.
How difficult or easy was it to find accommodation options during peak winter?
You've to do your homework because very few accommodation options are available in Leh and they are usually overbooked by Chaddar Trek parties. Stay outside leh have to be even more carefully planned as the options are almost non-existing.
What advice would you give to our readers who might wanna undertake such a winter expedition?
Think it through, and then think again! Well, it's a question I am often asked and many friends have asked me to do this trip again with them. I am planning to organize couple of such trips in coming winters.
Are you planning for any other epic adventures in the coming months?
Another winter trip, may be two. I am always on the lookout for possibility of jeepable tracks in the most inaccessible mountains. Last year I did Foti La, a pass higher than the much popularized Khardungla, it would be somewhere else this summer, once the tourist season subsides.
About Nitin:
A chip designer by profession, he pursues photography as a part-time occupation as well as a means of creative expression. Coming from a defence background (son of an air force officer), traveling has been a part of life always says Nitin.