Caves,Pools and Awesomeness - Eastern Ghats Explored!
Friday, April 09, 2010
Date of Journey - April 2-3rd 2010.
This was again one of those long weekends and it has been a busy year so far I have to say. New changes at work, lots of new explored locations, new alliances, new friends, new ideas on the blogging front, lots of planning for new acquisitions and new trip itineraries. So I was not very keen on a trek this weekend. On the other hand staying at home for a long weekend also seemed like betraying my religion, wanderlust that is. The invite mail read "Difficulty : Easy to Moderate, First timers can also join."

No! I am not saying I am a first timer. All I am saying is an easy trek to the hidden treasures of Eastern Ghats looked like just the ticket to a relaxing weekend that I was hoping for. Joining in from Bangalore was another challenge in itself once I decided I was in for the trek. Ramjan, whom I had already met was joining from b'lore and I also managed to convince Harsha to join in. By Thursday morning 5 of us were to start from b'lore the same night and we were just about as clueless about our transportation as a deranged penguin out in the arctic. Calls were flying around till late evening and finally at 7 PM I managed to book tickets in the cheapest bus available to Tirupati in the worst possible seats – the dreaded last row. But we survived the night albeit a sleepless one at it.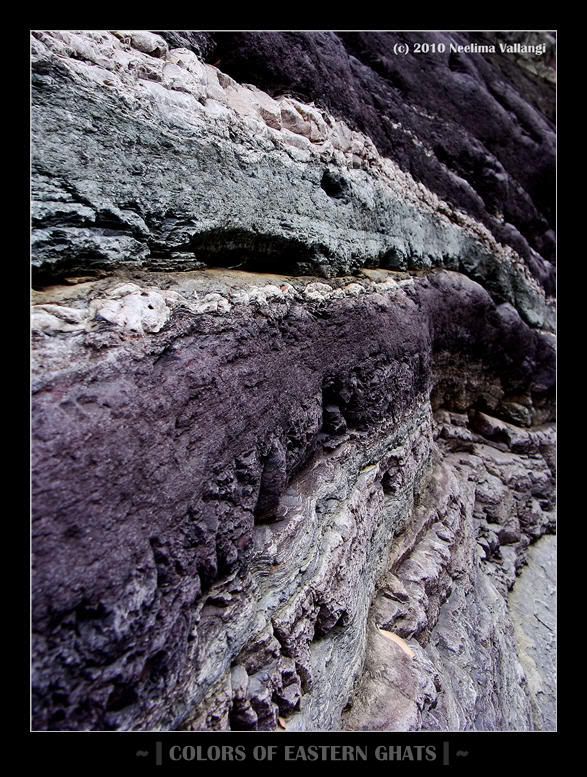 At the ungodly hour of 4 in the morning, we reached Tirupati where Pavan was already waiting with our transport to reach Kodur – Our trek starting point. Soon we joined the rest of the group(27 in all) and we were all headed into the barren lands of Kodur. I could see few more known faces in the group – Rinkesh, Imran and Sagar. And the rest I shall get to know in the coming two days. Meeting new people is always fun. :)
We set out on foot at 6 AM on Friday on a completely dried up stream bed. I turned back for some reason I could see a blazing red sun rise above the trekkers – sign of things to come over the fun weekend. The initial 5 hours of walk was rather monotonous with no change in scenery and only fueled by the rising mercury. But people who had been here earlier were assuring us this futile walk will be more than rewarding by afternoon. By now I also understood this was not one of those super easy walk in the parks I had come for. Now I like adventure, I like obstacles but today all I wanted was a tranquil sojourn which I was not going to get. We followed the dry stream bed and then a jeep track for long before we even saw first signs of water. Shallow as it was, it did not stop people from jumping in. It was close to midday and a cool dip for baked bodies was just the need of the hour.

After lazing around for quite some time, we set out to reach the most magnificent work of art. Who would've thought the dry arid Eastern Ghats housed some of the most exquisite of creations. Imagine a cool fresh water pool, imagine a cave, imagine an opening in the high rising rocks, imagine water flowing from the top to fall into one pool and then again flow into another pool. Now imagine all of this together. But I give you a better chance of visualizing it – just have a look at the damn thing!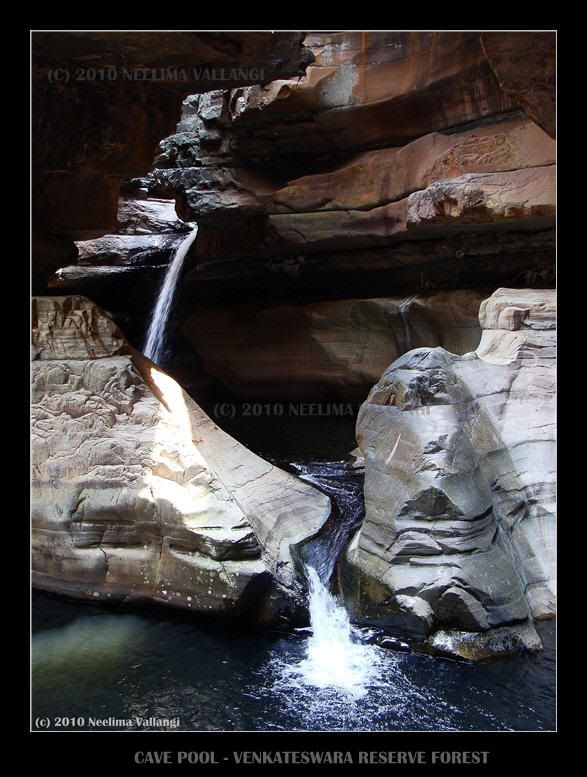 Few of us reached here pretty early leaving the rest of the group behind (for which we also got reprimanded). With just couple of us there, the playground was all ours. Sagar and Ramjan helped me wade across the pool to get a good look of the cave pool. People who knew swimming were busy jumping and diving and I was sitting on the ledge clicking this for you. The weather was not being inclement and it was suddenly overcast. This gave me a good opportunity to take some quality clicks as the light was not burning my photos.
Ask me now if that entire walk in the sweltering sun was worth it? I'd nod a big YES! I had said earlier in one of my other posts – Promise me a glimpse of awesomeness and I'd walk a thousand miles. This is the awesomeness I am talking about.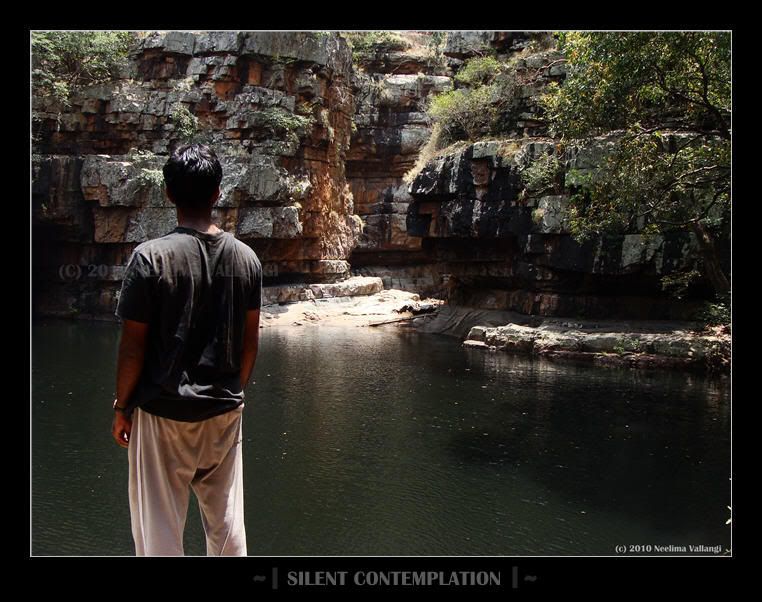 After a quick lunch by the vast pool side we set out to reach our campsite for the day. I wouldn't mind so much if I had to stay back here by the cave pool but I had to move. The dehydration with all the walking in sun was giving cramps to many and but they all put on a brave face and managed with a great spirit. Moving further ahead was taking a bit longer than we had expected and it was decided that we'd camp somewhere before the actual Day 1 Campsite. By dusk we reached a meandering which had enough place to accommodate all 27 of us. On one side was the forest and on the other side was a high rising rock face. The night was not as cold as expected and the moon wasn't out yet and the stars weren't shining yet. Bored, most of us went to catch a quick nap ignorant of the fact that something delectable was cooking in the so called kitchen area. Soon we woke up to the most delicious khichdi and soya + aloo curry - delicious means super delicious, that curry. If only it were chicken, phew! (Chicken was the actual plan but we couldn't get chicken in that dead of the night). After dinner, things started looking better again – the night got cold enough, moon was up and stars were shining. It was a pleasant night spent under the open skies.
Next morning after having our bed tea, we were off to an early start to cover up the lost distance. Now you might be wondering if we also took a dedicated catering service with us. But no, gone are the days when one had to carry ready-to-eat meager resources for food. Gone are the days when maggi was the order of the day. The change has arrived and now cooking sumptuous dinners is like a given on a trek. Three out of four times I had been with CTC, the dinner spread was unbelievable and I am completely loving it.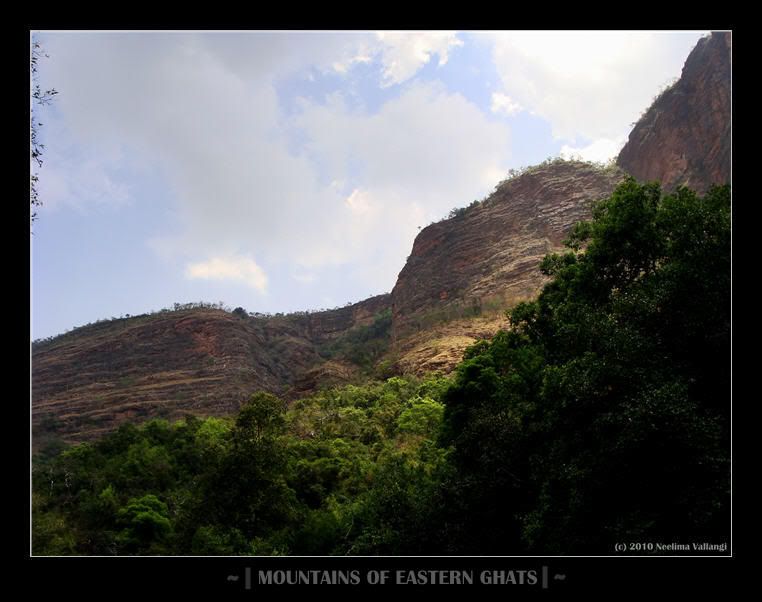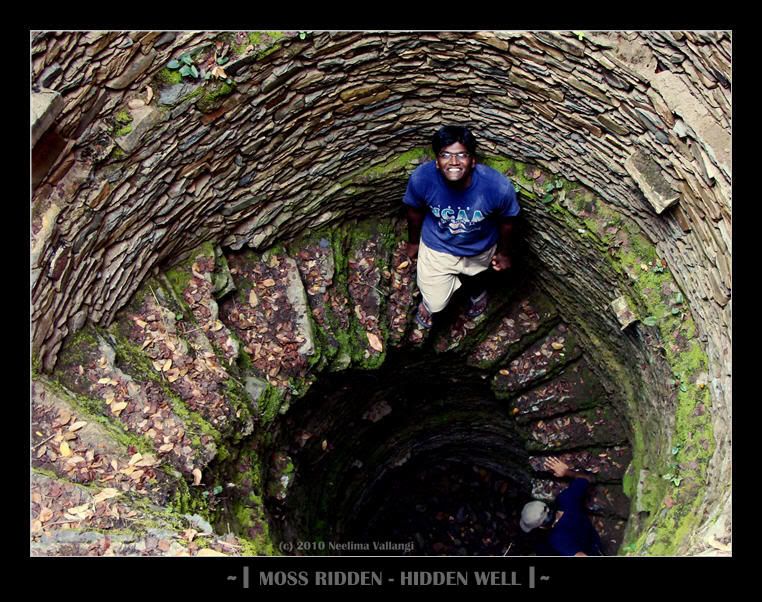 Today we had a long walk through the streams and gorges. We encountered waist deep water first where we formed a human chain to ferry the bags and the second obstacle was one deep pool where non-swimmers needed ferrying. With these two done, it was almost an easy trail from here. Before noon we reached non-swimmers pool which was our supposed day 1 campsite. The pool here is shallow allowing non-swimmers also to have fun in the water. It goes without saying that people were tossed into the water including yours truly. I was still struggling to hold on to my sleeping mat while Pavan, yet another non-swimmer, dives into the water displacing his sleeping mat and trying to float using me as a leverage. But the sleeping mat was peacefully holding two of us afloat! We had some good fun in the water while Tamal, Ezhil and Payal were already busy preparing lunch for us.
But something else was also cooking. And don't freak out if I say that something was eaten raw as well. The stream had lot of crabs in it and it was pretty tempting to catch one. Once one crab was caught it became even more inviting to catch more. What ensued was the crab catching game which lasted long and provided enough entertainment and a vessel full of crabs for lunch. Some ate the crabs raw and the rest were boiled to make a soup out of it. I don't know if it tasted of crab coz that was the first time I had crab but it sure tasted of victory to few. After a quick round of lunch and quite a long nap we started the rest of the journey to reach civilization.
The walk was pretty much along the stream and we got to see some more of those amazing rock formations. Tathagath, Madhu, Vinay, Tamal, Ezhil, Sagar and I were walking behind and it was quite an experience to get this tree pic of us with timer. Tathagath had to set the timer and run to climb the tree – all within 10 seconds.
The next stop was twin shower falls and the shower was quite refreshing. After this started the rat race to reach Talakona falls as soon as possible. It was already decided that we'd do some walking in the night. We crossed one really huge rock face with water trickling over it and needless to say – another dip in the showers was expected. This was followed by a scary little climb over loose rocks and that took us to the top of the same falls.
From here, we had to walk upstream for a while until we hit open forestland. It was 7 PM and then started the night walk. It was pitch dark and stars were out giving us a good company. We walked till 9 PM to reach Talakona falls. Just before getting down to the falls, we also had a minor wildlife encounter if I can call it so. I did not see what was coming because I was busy running but people said it was a wild boar.
The trek ended at Talakona falls and the huge falls looked lovely in the dark night. From here the walk continued till 10 PM to reach the entrance of the falls. We waited for long before our pick up taxis would come and once the taxis arrived it was a race against time to reach Tirupati so that Bangalore people could catch our return bus. We reached almost 20 minutes past the departure time and I was already dreaming of having a nice dinner before leaving but, the bus itself was delayed by more than an hour. We had a comfortable ride back to Bangalore and Chennai guys took the train.
You'd think I would be crazy to go back to the same Venkateswara Reserve forest within a month of my previous visit but you just see the difference for yourself. The destination might have been same but the trails leading were far from being similar.
Colors of Venkateswara - A Trek in the Eastern Ghats!
Organized by – Tamal, Pavan & Ford Bala through CTC
Trek Start Point - Somewhere off Kodur, Andhra Pradesh
Trek Ends at - Talakona Waterfalls, 60-70 kms from Tirupati
Total Distance covered - approx 45-50 kms
Trek Difficulty - Moderate. Requires crossing waist deep waters and one deep water crossing.
Trek Route - Follow a dry stream bed for almost close to two hours until you reach a jeep track. Then keep following the jeep track until you reach a flowing stream and then follow the stream to reach cave pool and Day 1 campsite.
Day 2 - Also keep following the stream until you reach a huge waterfall, climb up the slope to reach the top of the waterfall, then follow upstream to come to an open area. A short walk in the bush to reach yet another jeep track which will lead you to Talakona Waterfalls.
The route that I have mentioned is very vague and do not try to attempt this trail based on this. For the exact GPS readings, you may contact Chennai Trekking Club.